Foothills Food Bank Looks Forward to AZ Gives Day
A gentleman stopped by the Foothills Food Bank and Resource Center one day and yelled, "I don't need you anymore."
The nonprofit's executive director, Leigh Zydonik, was nervous and wondered what happened.
"I got a job," she recalled the man sharing. "He said, 'You helped me through a rough patch. I have a job; I don't have to come back here anymore.'
"He was so excited. It was such a heartwarming story. Just knowing that you're helping someone get through a rough patch in their life is great."
The Foothills Food Bank serves more than 200 square miles with its Cave Creek and Black Canyon City locations. Residents in Black Canyon City, Mayer, Spring Valley, Cordes Lakes, Cave Creek, Carefree, Anthem, Desert Hills, New River, North Scottsdale and North Phoenix are welcome to visit the facilities for help.
The food bank and resource center smooth over tumultuous times and offer financial assistance, resume building and signing people up for government services, Zydonik said.
Foothills Food Bank is looking forward to Arizona Gives Day on April 6, a 24-hour online giving experience that unites Arizonans around causes they believe in.
"What I think is very special about Arizona is the state has a charitable tax credit for donations to certain charities," Zydonik said.
"You can give up to $400 as a single and $800 as a joint filing and receive that tax credit dollar for dollar back. I don't think that is done in many other states."
Arizona Gives Day is April 6, but donations can be made as early as March 16. Nonprofits, especially during a pandemic, are desperate for funding so they can continue to serve the public.
Supporters of Foothills Food Bank can go to azgives.org and select Foothills Food Bank to make a direct contribution. The new qualified charitable organization code for the Foothills Food Bank & Resource Center on income tax returns is 20514.
"We have so many great service organizations, nonprofits that help our community and our neighbors," Zydonik said. "So that's why we really want to get the word out. You have the opportunity to direct your tax dollars so try to keep them local and help your neighbors."
Almost every dollar Foothills Food Bank receives goes directly back out into the community and helps fund the food bank's ability to serve, Zydonik said.
"We have to take administrative costs out, but we are so fortunate that we only have three full-time people and five part time. But we have over 316 volunteers. So, our administrative costs are very low," Zydonik said.
"We rely on volunteers for almost everything. The majority of what you are giving goes right back out."
In 2020, more than 1.5 million pounds of food were donated to the Foothills Food Bank. That provided immediate help to its clientele, Zydonik said.
"In 2020 we served about 2,500 clients. And, of that, there were 17,324 visits. Some of the clients have come more than once. And of those, 2,906 were new clients," Zydonik said. "So, it does kind of show that COVID has made its impact."
Donations and volunteers allow the Foothills Food Bank to continue to serve the public and help those in need.
"We are so blessed in this community because of the generosity of our volunteers and our donors," Zydonik said. "We are so appreciative of that because then, in turn, we can be generous to our clients and really make a difference. It's just a fantastic way to go full circle — give and getting back in return."
Some Foothills Food Bank clients come occasionally, just needing to make it through a rough patch. This often means they don't have to choose between feeding themselves or buying medicine or paying the house payment, Zydonik said.
"You never know somebody's needs, especially during this crazy time," she said.
"We're all just one emergency away from needing help, and when you're helping your neighbors, it is a wonderful opportunity."
---
By Olivia Dow, Foothills Focus Staff Writer  |  Mar 11, 2021  |  Original Article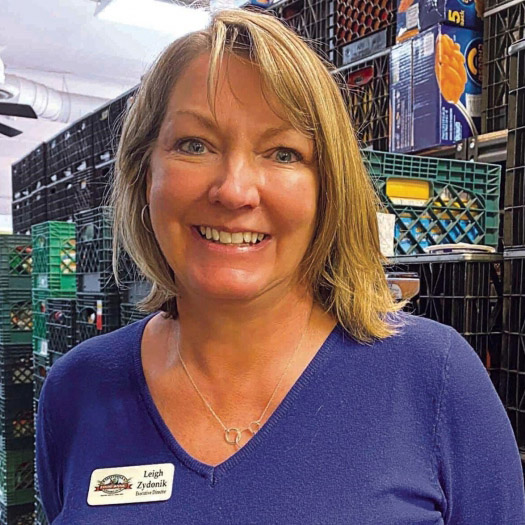 "We're all just one emergency away from needing help, and when you're helping your neighbors, it is a wonderful opportunity."